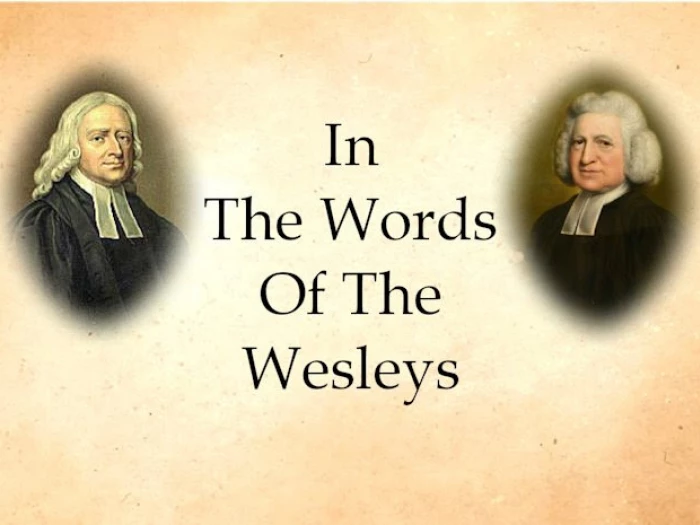 During Wesley Weekend, a short series based on services prepared by Rev Tony Buglass, working alongside Tricia Mitchell, of Learning Network North East, was emailed out to subscribers of the Great 50 Days email community.
If you are a subscriber, you will have received the series in four parts, concluding on Tuesday 24th May.
If not, we are running each part of the series over four days this week.

Here is part two
Gathering

What is our calling's glorious hope
but inward holiness?
For this to Jesus I look up,
I calmly wait for this. Amen
Charles Wesley, Hymns & Psalms 749
On day 2 of our 'Wesley Weekend' I encourage you to settle into this space by reading or singing the hymn 'Where shall my wondering soul begin?' (Singing the Faith 454 / Hymns & Psalms 706) which Charles wrote at the time of his conversion experience in May 1738.
Is there a particular phrase in the hymn which arrests your attention? Pause with those words and hold them prayerfully as you meet with God today.
***
In Singing the Faith this hymn is titled 'The Wesleys' Conversion Hymn'. The first verse alludes to the family's escape from the burning Epworth Rectory in 1709 when Charles was a little over one year old and John at five and a half had to be rescued from an upper window via a human ladder. His mother sometimes referred to him as a 'brand plucked from the burning', a phrase which echoes Zechariah 3: 2.
It fascinates me (Tricia) that John and Charles had been brought up in the vicarage; tutored in the bible by their mother Susanna; they had formed the Holy Club at Oxford; had been ordained; and had travelled to America all before these conversion experiences took place. It was a long journey and we may have imagined them to be already strong in their faith – but both recognised a gap – something missing. Is this what John had in mind when he wrote his sermon "The Almost Christian"? Here are some extracts from that text (the language has been modernised in places):
"'Almost you persuade me to be a Christian' (Acts 26: 28) – and many there are who go this far. But since it counts for nothing before God to go only this far, it is crucial to consider what is implied in being almost, and what in being altogether a Christian.
Being almost a Christian implies first, heathen honesty – they were taught not to be unjust, not to take away their neighbour's goods, to defraud no man of his right. Some regard was paid to truth as well as to justice.
There was a sort of love and justice which they expected from each other.
A second thing is implied – having a form of godliness. The almost Christian does nothing which the Gospel forbids. He does not wrong, hurt or grieve any man, but in all things acts and speaks by that plain rule "whatever you don't want anyone to do to you, don't do to anyone else." And in doing good, he does not confine himself to cheap and easy acts of kindness, but labours and suffers for the profit of many. He uses also the means of grace – he constantly frequents the house of God.
Friends, let me speak freely of myself: I did go this far for many years, being careful to avoid all evil, not wasting time, constantly using the means of grace, and having a real desire to serve God, yet my own conscience tells me that I was all this time but almost a Christian.
What more than this is implied in being altogether a Christian? First, the love of God; second, the love of neighbour, and one more thing which is the ground of all – faith. But let no one deceive himself – "It is to be carefully noted, the faith which does not bring forth repentance and love and all good works, is not the right living faith, but a dead and devilish one." The right and true Christian faith is not only to believe that Holy Scripture and the articles of our faith are true, but also to have a sure trust and confidence to be saved from everlasting damnation by Christ."
***
Hymn (Charles Wesley)
Charles writes of that certain faith in his wonderful hymn 'And can it be'.
(Singing the Faith 345 / Hymns and Psalms 216)
Can you sing with Charles '... my chains fell off'?
I thank God that Charles did rise, go forth and follow when God called him as he lay ill that night.
What might bind you today?
Will you, like Charles Wesley, offer it to God in prayer?
***
Tricia Mitchell, of Learning Network North East, said: "Our short Aldersgate series is based on services prepared by Revd Tony Buglass drawing on the sermons of John Wesley and the hymns of Charles Wesley.
"I am grateful to Tony for his wisdom in bringing these contributions together and for sharing them with us."